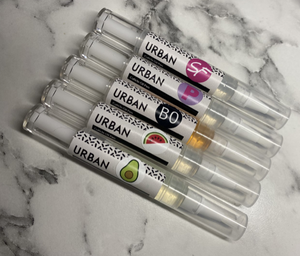 Cuticle Oil Pen
Urban Cuticle Oil is a moisturising product for your nails and cuticles. 
Applying Urban Cuticle Oil can:
Increase the circulation around your nails, stimulating nail growth 
Improves health and appearance of nails 
help prevent nails from becoming brittle 
comes in a range of beautiful scents (same as our hair oil) 
OIL OFFER - BUY 3 FOR £12.
Vegan and Cruelty Free, manufactured in the UK.